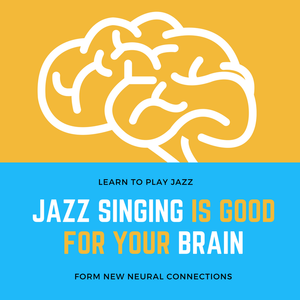 Jazz Singing is a priceless educational process, in which the singer is getting to know his/her voice, appreciates its multiple expressive potentials and learns to use it as an improvising instrument. Meanwhile, he/she discovers the magic of jazz music and enjoys the unique experience of artistic expression and freedom! 
Mastering vocal technique and improvisation skills in Jazz Singing. 
Vocal technique: breath management and development of vocal tone, range and volume. 
Management, support-control of breathing for singing – Development of vocal tone, range and volume – Mastering the use of the vocal colour palette by shaping the vocal tract – Control of dynamics and frequencies of the voice – Looking inside the larynx and getting to know the anatomy of the vocal instrument – Understanding the way that the voice "works" as part of the human body – Acquiring the method for "healthy" singing – Vocal coaching: the direct application of the technique onto the song, as far as sound, articulation, stylistic expression and homogeneity of the voice are concerned. 
The mission is to accomplish a "powerful" vocal instrument (making the best of all its range, volume and tone), which will allow the singer to acquire all the musical, expressive and improvisational skills, in order to be able to perform with musicality, self-confidence, freedom and pure joy! 
After all Jazz Singing means to be able to use your voice as an improvising instrument!  
Vocal Improvisation: mastering jazz phrasing and improvisation (scat singing). 
Swing feel: analysis of the eight triplet feel. Total grasping of the terms "time" and groove – Understanding the form and absorbing the harmonic progression of the piece – Rhythmic phrasing & Syncopation management – Improvising the melody – Mastering the jazz language, vocabulary & vocal improvisation (scat singing). – Rhythmic & melodic fluency, richness and accuracy – Developing the vocalist's personal jazz style, cultivating his/her creativity, imagination and reinforcing his/her self-confidence and freedom of expression – Obtaining the ability to improvise instantly on any given melody, over any harmonic progression or rhythmic context – Achieving to be in a creative interplay within the jazz combo. 
The singer is getting familiar with the swing feel, learns how to manage legato and syncopation and starts to develop phrasing skills. He/she masters the jazz vocabulary and obtains his/her personal jazz articulation in vocal improvisation (scat singing). While cultivating the rhythmic variety and phrasal fluency, at the same time the singer reinforces his/her creativity, imagination and personal aesthetics, which will allow him/her to become self-confident and go deeper in any jazz style. 
The final goal is to be able to improvise instantly within any given melody, over any harmonic progression or rhythmic context, to "fit in" the musical environment and to be in a constant "interplay" with the rest of the musicians.