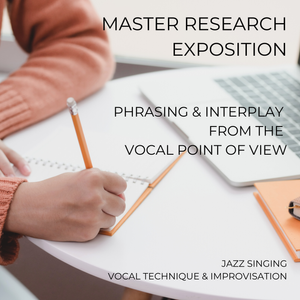 Free access to my Master Research Exposition (2018) entitled "Phrasing & Interplay from the vocal point of view - phrasing as the vocalist's tool to stimulate interplay within a jazz combo".  
Now you can visit and read my complete Master Research Exposition as it was published in the Research Portal of The Royal Conservatoire of The Hague (NL), in 2018. Open the full research exposition by clicking the button below. 
Enjoy the read and share your comments with me! 
Irini
Note: Best use the links below each column, to navigate to the next section, instead of the top navigation bar. 
Blog Post by Irini Konstantinidi originally published on April 1, 2020